How to Shoot Screenshots on macOS
Posted on August 7th, 2017 by Craig Grannell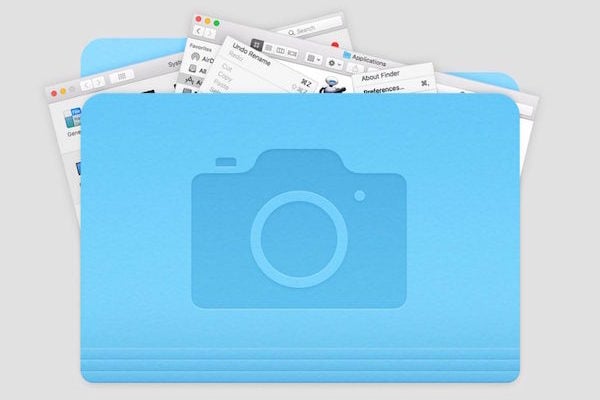 Need help regarding a tech problem? Want to show off something cool on your Mac? Try sharing a screenshot.
The only snag is if you don't know how. But have no fear, because this guide will turn you into a Mac screenshots guru in no time!
Shoot and save screenshots on your Mac
On the Mac, Command+Shift+3 shoots a screenshot. On pressing those keys, you'll hear a camera shutter noise, and the screenshot will be saved to your Desktop as a PNG. The document's filename will include the date and time the screenshot was taken.
Video content protected with HDCP (High-bandwidth Digital Content Protection) will be blacked out, but otherwise your image will show everything that was on your screen when you took the screenshot.
Got a MacBook Pro with a Touch Bar? You can take a shot of that strip with Command+Shift+6.
Note: available screenshot shortcuts can be adjusted in System Preferences. In the Keyboard pane, go to the Shortcuts tab and select Screen Shots from the sidebar.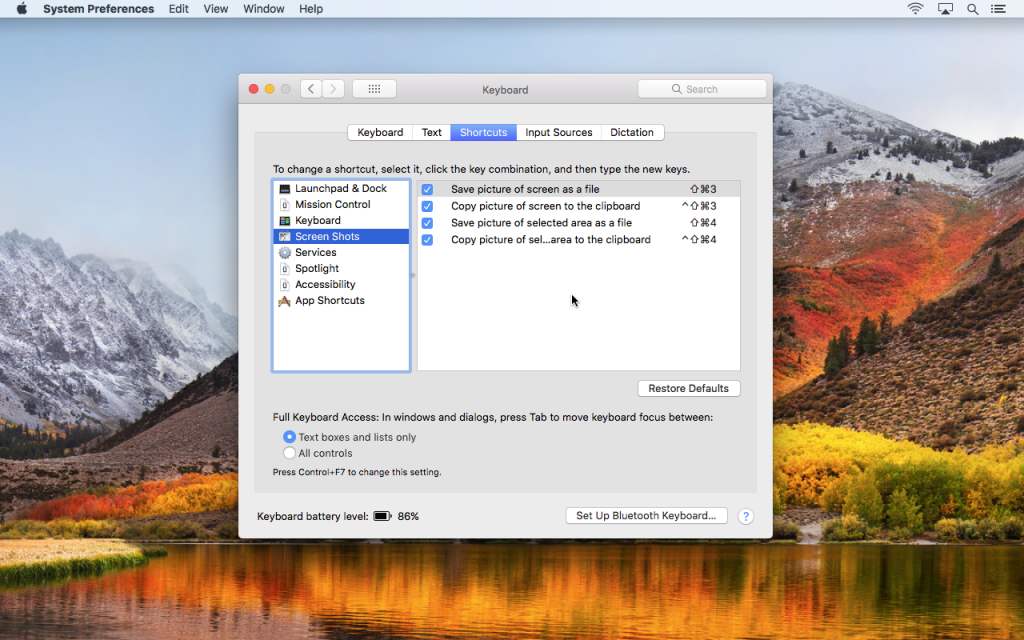 Change where screenshots are saved
To send a screenshot to the clipboard rather than the desktop, hold Control along with Command+Shift+3. (The Control trick works with other commands you'll see later in this article, too.)
You can also change the standard save location from your Desktop to somewhere else. This can be an existing folder (such as Pictures) or a new one you create yourself in Finder.
Once you've settled on a save location, open the Terminal app (found in Applications/Utilities), and type the following, ensuring there is a space after 'location':
defaults write com.apple.screencapture location
Drag from Finder to the Terminal window the folder where you want screenshots to be saved.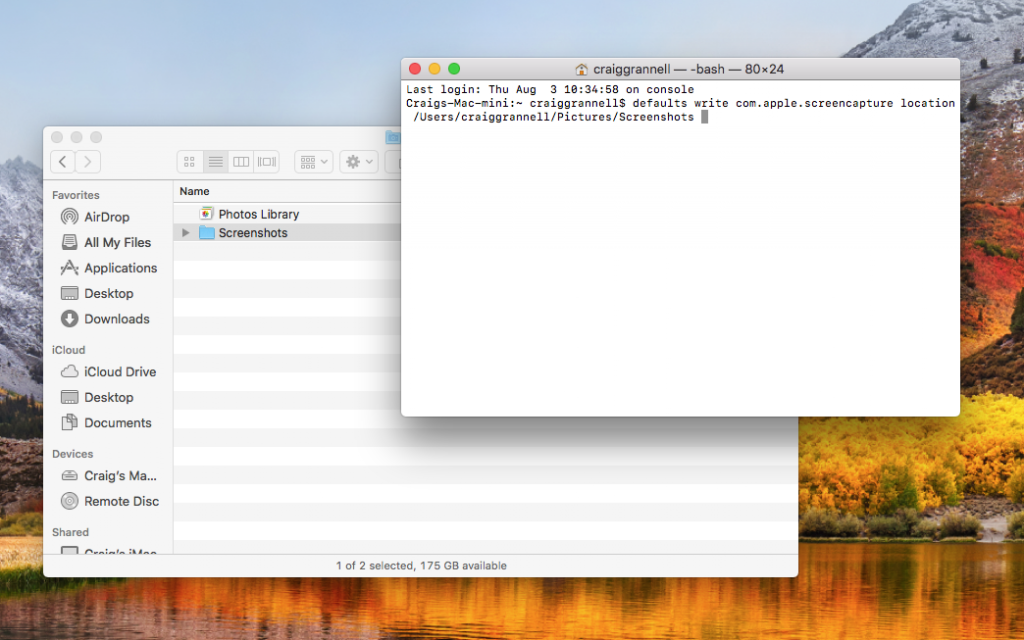 Alternatively, type the path manually. For the Pictures folder, you'd use:
defaults write com.apple.screencapture location ~/Pictures/
For a user-created Screenshots folder within Pictures, you'd use:
defaults write com.apple.screencapture location ~/Pictures/Screenshots/
Press Return, type the following command, and press Return a second time, and everything should be working.
killall SystemUIServer
To revert, run the commands from this section again, but use ~/Desktop as the save location.
(Be mindful some third-party software may move screenshots automatically. Dropbox, for example, optionally automatically uploads screenshots you take.)
Shoot a window, menu, or portion of the screen
To shoot an open window or menu, press Command+Shift+4 and then Space. Move the camera over the item, which will be highlighted, and click the mouse/trackpad button, or press Return. The entire target item will be in the screenshot, regardless of whether some of it is off-screen or covered by another app. If you don't want a drop shadow to be included in the screenshot, hold Option when you click the region. (Holding Option with Return does not work.)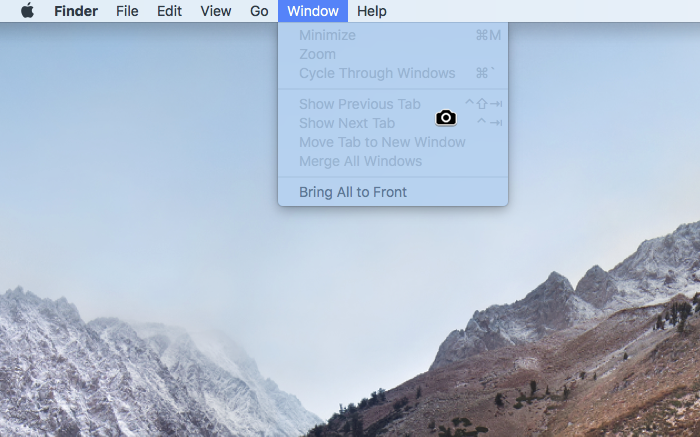 To shoot an arbitrary portion of the screen, again use Command+Shift+4, but don't press Space. Crosshairs will appear, showing your horizontal and vertical cursor location in pixels. Drag the area you'd like to capture, whereupon the pixel readout will display the size of your selection.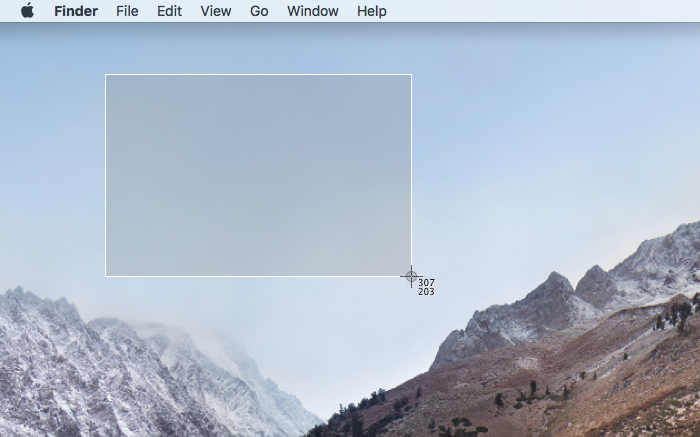 Release the trackpad/mouse button and the screenshot will be taken. Alternatively, while the button is held down, you can: hold Space to drag the selection; hold Shift to restrict selection resizing to the horizontal or vertical axis, depending on in which direction you next move the cursor; hold Option to resize the selection from its center point.
In all cases, Escape cancels the action, without a screenshot being taken.
Note: none of the above options can shoot a lengthy web page that spans several screens. Use the Awesome Screenshot extension in Safari for that.
Shoot a timed image with Grab
Occasionally, the process of taking a screenshot changes what you see on the screen. When that occurs, try the Grab app. In its preferences (Grab > Preferences), choose whether you'd like a cursor displayed. (One isn't usually shown in screenshots.) Then go to Capture > Timed Screen.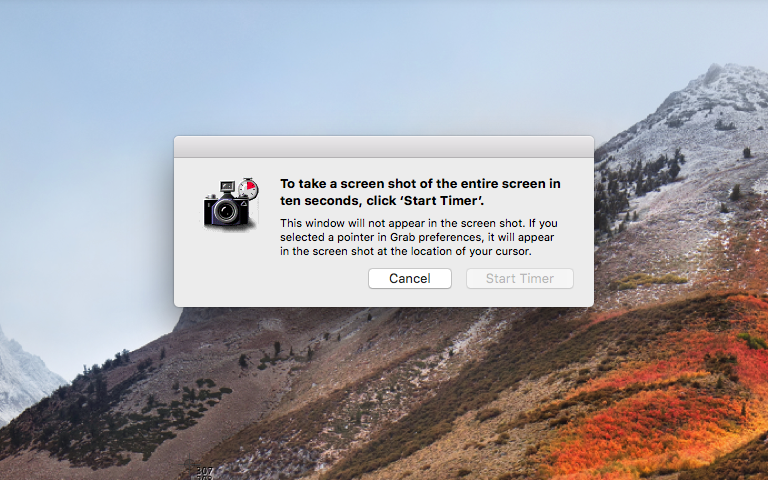 In the window that appears, click Start Timer. You'll have ten seconds to get everything ready. Once the screenshot is taken, it will open in the Grab app, but won't be saved – you need to use File > Save to do that. Also note Grab's default file format is TIFF rather than PNG. This can be changed in the save dialog.
Shoot Mac screen shots using Screen Sharing
If you've got multiple Macs, you can take screenshots via Screen Sharing, which is handy for being able to focus purely on what you're shooting on one Mac, while doing the actual shooting and saving on another.
You activate Screen Sharing on a Mac by checking the Screen Sharing box in the Sharing System Preferences pane. In Finder's sidebar on your other Mac, select the shared computer, click Share Screen, and type in the username and password you use to access that Mac. The Screen Sharing app will launch, and the shared Mac's desktop will appear inside a window.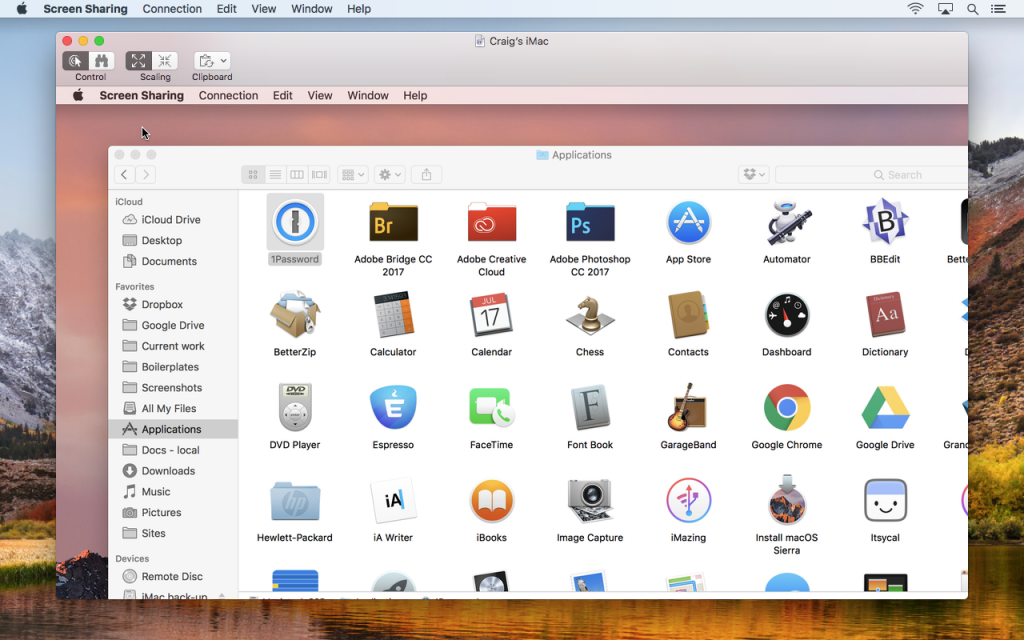 Screenshots can be saved at any point using Connection > Save Screen Capture As… (to which you can assign a shortcut in the Keyboard pane of System Preferences, if you wish).
If you take screenshots this way, be mindful of two things. First, ramp up quality settings (View > Full Quality), or your screenshots will look like compressed JPEGs. Secondly, if the shared computer's display is bigger than the one you're sharing it with, turn off scaling in the View menu, or screenshots taken won't be at native resolution – instead, they'll be scaled to the size they're displayed within the Screen Sharing app.
---
New to Mac? Learn tips and tricks at our New Mac User Center!
Want to get the most out of your new MacBook, iMac or other Apple computer? Whether this is your first laptop or you've just switched from Windows, there are a few things you should know about your new Mac, like basic keyboard shortcuts or how to use the various features macOS has to offer. Learn more about what your Mac computer can do for you at the Intego New Mac User Center:
Get started now!
About Craig Grannell
Craig Grannell is a technology writer, mostly specialising in Macs, iOS, apps, and games. He's been immersed in all things Apple for over 20 years, and enamoured with computers since getting his hands on a VIC-20 as a kid. He also has a Korg Gadget addiction. Send help. Or alternatively, visit his website, craiggrannell.com, and follow him on Twitter at @craiggrannell. View all posts by Craig Grannell →